Biogas
DOS BIOGAS is a ready-made biogas generator, using technology of Completely Stirred Tank Reactor (CSTR). In which, organic waste is decomposed by bacteria in the closed-system tank without oxygen The end products are biogas and fertilizers.
PRINCIPLE
The system composes of two serially connected reactor tanks. The first tank is to produce acid. And the second tank is to produce methane gas. The first tank environment is suitable for gas-producing bacteria to growth. The second tank, which get product from the first tank, is designed to have a perfect environment for methane-producing bacteria. Specially design environment for each type of bacteria. The system can produce large volume of biogas.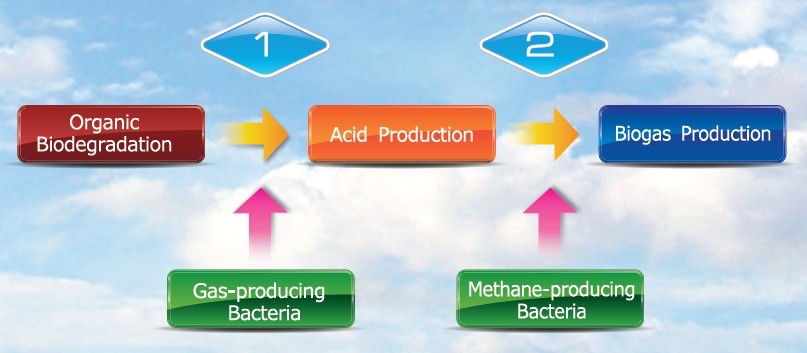 COMPLETELY STIRRED TANK REACTOR TECHNOLOGY (CSTR)
By the completely stirred tank reactor technology (CSTR), the waste continuously stirred inside, the organic waste and microorganisms is completely well mixed. So this is suitable for high density of organic bio-degradation.
RENEWABLE ENERGY AND BENEFIT
CH4 contain in Biogas upto 60% can be several renewable energy. Mostly use as LPG or Electrical power and can get the soil treatment from the system as well